Be Sensual
Hemp Bath Fizz
HEMP / NEROLI / SANDALWOOD
Item No. 52365
Every body loves special attention. Our stimulating 
Be Sensual
 Hemp Bath Fizz treats your senses to precious you time. Let the exotic, woody notes of Neroli, Sandalwood, and Geranium, enhanced with the terpene Nerolidol, evoke passion and well-being, while healing Minerals and moisturizing Organic Hemp Seed Oil soothe and smooth your body into silky submission so you can relax and connect.
Purifies skin with Essential Oils
Awakens the senses with an exotic, soft aroma.
Nourishes skin with Omega-3 and Omega-6 essential fatty acids.
Rejuvenates skin with Minerals and Hemp Seed Oil.
Hemp Seed Oil
One of nature's most nutritional oils, hemp seed oil offers vital amino acids needed to maintain health and balance. It contains remarkable antioxidant and anti-inflammatory properties. Loaded with omega-3 and omega-6, hemp seed oil moisturizes and nourishes skin, making it a useful ingredient in bath, body and skin care products.
Neroli
Neroli helps soothe dry, sensitive and couperose-prone skin through cell regeneration. It's floral and herbaceous aroma—complemented by terpenes linalool, limonene and nerolidol—add to its stimulating and uplifting properties. Neroli has also been used to help manage pain, inflammation and menopausal symptoms.
Nerolidol
Nerolidol has a floral, citrus aroma and is commonly found in ginger, nerolidol, lavender and citronella. A popular fragrance in cosmetic products, nerolidol also helps to sedate and is known to work as an anti-inflammatory.
Sandalwood
"Sandalwood essential oil is an antiseptic, anti-inflammatory, antispasmodic, astringent, diuretic, disinfectant, expectorant, hypotensive and a sedative. This versatile essential oil tightens gums and muscles, prevents hair loss, stops hemorrhaging, reduces the visibility of scars and provides relief from gas. It softens skin, cures coughs, reduces blood pressure, increases memory, and helps nervous system disorders while fortifying the immune system."
Natural mineral salts, Sodium Bicarbonate, Sodium Sulfate, Citric Acid,* Natural Essential Oil Formula - Citrus aurantium var. amara (Neroli) Flower Oil, Santalum album (Sandalwood) Oil, Cannabis sativa (Hemp) Seed Oil, Pelargonium graveolens (Geranium) Oil, Litsea cubeba (Listea Cubeba) Oil, Melaleuca alternifolia (Tea Tree) Oil, Linalool, b-pinene, Nerolidol.
Fill your tub with water at desired temperature and pour in Hemp Bath Fizz to create a spa-like, effervescent experience.
For external use only, not to be swallowed. Keep out of reach of children.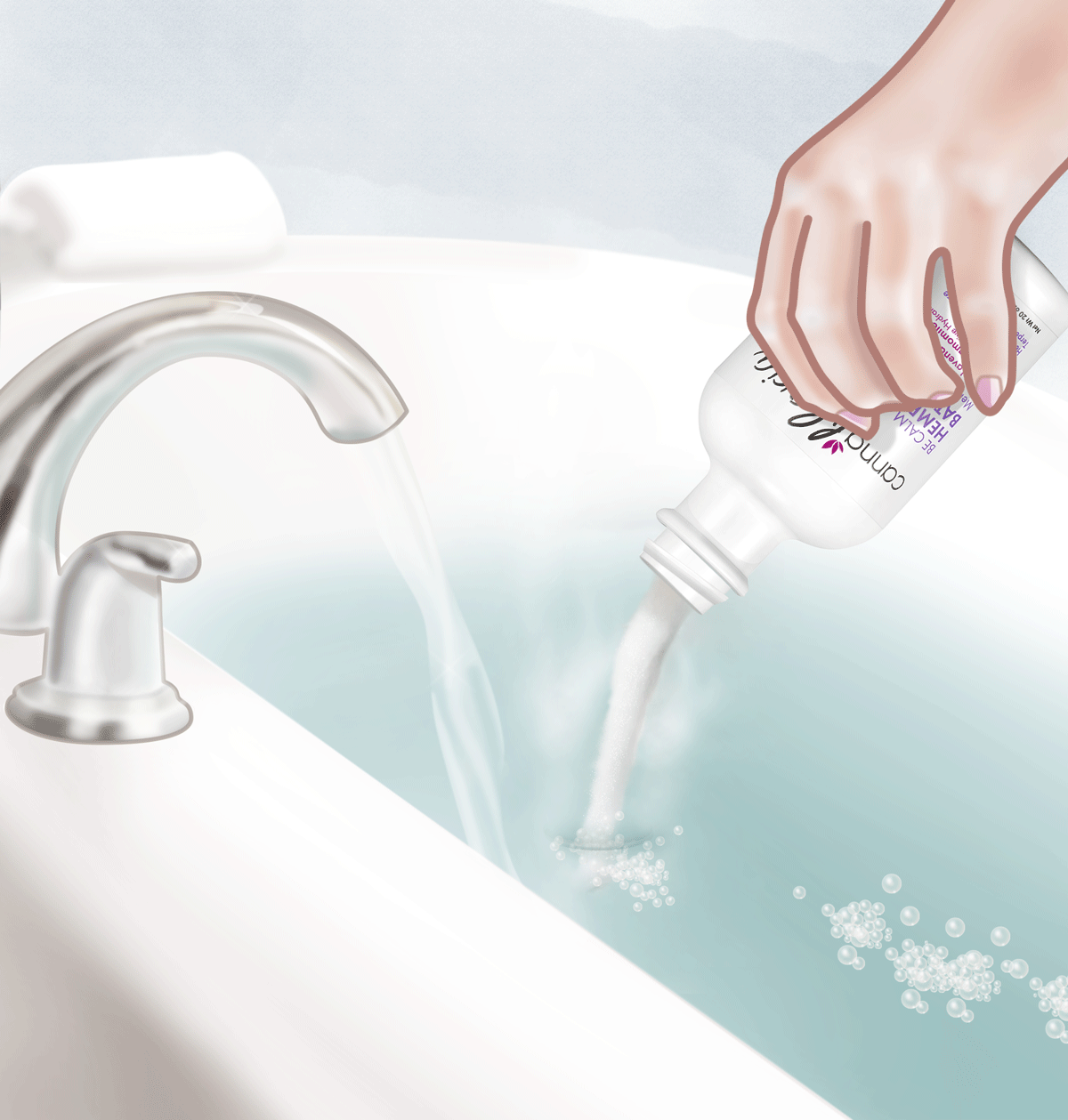 Our products are designed, tested, batched and bottled to the highest standards. Learn more about our 100% committment to sustainability.