Be Refreshed
Hemp Mood Mist
HEMP / YLANG YLANG / HOPS
Item No. 52359
Enjoy restorative relief at your fingertips. Our calming 
Be Refreshed
 Hemp Mood Mist delivers a revitalizing spritz of hempsational exhilaration. Let the silky, fruity notes of Ylang Ylang, Hops, and Mandarin, enhanced with the terpene Humulene, restore your senses, while moisturizing Organic Hemp Seed Oil and Hyaluronic Acid rehydrate your skin back to balanced.
Encourages the mind to take a break.
Combats skin discolorations, redness and helps restore collagen.
Boosts skin's natural hydration with vegan, biocompatible Hyaluronic Acid. * Refreshes the senses with a silky, comforting aroma.
Feeds skin with Omega-3 and Omega-6 fatty acids, found in organic Hemp Seed Oil.
Active botanicals of Licorice Root Extract & Horsetail Extract deliver a brighter looking skin.
Aloe
Aloe Vera is a versatile plant that strengthens the immune system, delays the aging process, cures dermatitis, alleviates menstrual problems, reduces arthritis pain, heals wounds, cures nausea, eliminates ulcers, lowers blood sugar levels, prevents diabetes, reduces oxidative stress, inhibits cancerous growth, heals the side effects of radiotherapy treatments, promotes hair growth, and soothes acid reflux symptoms. It also lowers cholesterol and triglycerides, improves cardiovascular functions, alleviates joint and muscle pain, enhances life span, and cures gum diseases.
Hops
"Hop extract is an antibiotic, anti-inflammatory, antispasmodic, relaxant, sedative and pain reducer. It is used to prevent infection, treat skin conditions, reduce menstrual cramping, treat asthma, reduce anxiety, prevent insomnia and promote calm."
Humulene
Offering a woody, earthy aroma, Humulene is found in sage, pepper, ginseng and ginger. However, it is most notably found in hops and can comprise up to forty percent of its essential oil. Known as a powerful anti-inflammatory, antibacterial and appetite suppressant it has been featured for centuries in herbal medicines.
Ylang Ylang
Distilled from fresh flowers grown on the Island of Comoros, Ylang Ylang has a powerful, exotic aroma and is fueled by the terpenes β-caryophyllene and germacrene. An oil with varied application, it can be used to treat mood, skin, and hair concerns. Ylang Ylang can aid in stress and tension relief. It has been applied to skin to reduce oiliness and to hair to smooth split ends.
Aloe Barbadensis (Aloe Vera) Leaf Juice, Water (Aqua), Citrus Sinensis Hydrosol ( Blood Orange), Saccharide Isomerate (Active) Aqua, Glycyrrhiza Glabra(Licorice) Root Extract, Equisetum Arvense (Horsetail) Extract, Citric Acid, Sodium Citrate, Sodium Hyaluronate, Sea Salt/Maris Sal/ Sel Marin, Natural Essential Oil Blend, Cananga odorata, (Ylang Ylang) Flower Oil, Humulus lupulus (Hops) Oil, Cannabis sativa(Hemp) Seed Oil, Citrus nobilis (Mandarin Orange) Peel Oil, Citrus limon (Lemon) Peel Oil, Valeriana officinalis (Valerian) Extract, a-Humulene, Limonene.
Spritz on refreshing relief after cleansing or for a needed boost of hydration. Works over makeup too! Calm those flustered nerves!
For external use only. Do not spray in eyes.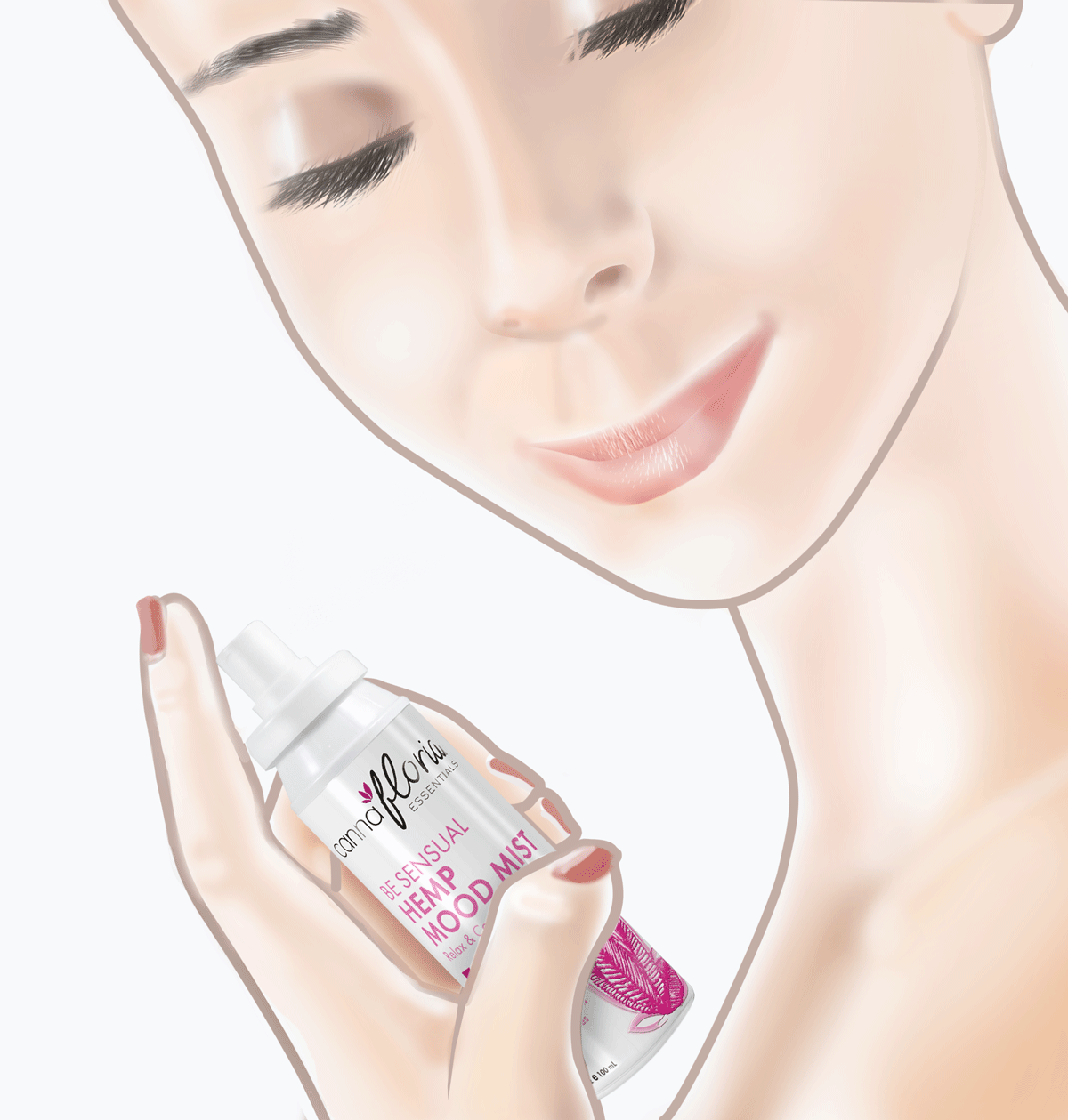 Our products are designed, tested, batched and bottled to the highest standards. Learn more about our 100% committment to sustainability.