Be Focused
Hemp Bath Fizz
HEMP / ROSEMARY / MINT
Item No. 52366
Can we have your attention, please? Our restorative 
Be Focused 
Hemp Bath Fizz helps improve mental clarity and concentration. Let the crisp, aromatic notes of Rosemary, Mint, and Spearmint, enhanced with the terpene  a-pinene, sharpen your senses, while healing Mineral Sea Salts and moisturizing Organic Hemp Seed Oil soothe and smooth your body back into action. Simply chill in the hot, healing bath to feel minty fresh and focused. 
Sharpens the senses with a crisp, minty aroma.
Rejuvenates skin with Minerals and Hemp Seed Oil.
Nourishes skin with Omega-3 and Omega-6 essential fatty acids.
Purifies skin with Essential Oils
α-Pinene
A prominent terpene in pine, sage, rosemary and eucalyptus, α-Pinene has a familiar woody scent. Known for its ability to promote memory and focus, α-Pinene is also believed to help open airways and to combat pain and nausea.
Hemp Seed Oil
One of nature's most nutritional oils, hemp seed oil offers vital amino acids needed to maintain health and balance. It contains remarkable antioxidant and anti-inflammatory properties. Loaded with omega-3 and omega-6, hemp seed oil moisturizes and nourishes skin, making it a useful ingredient in bath, body and skin care products.
Rosemary
"Rosemary essential oil is a powerful disinfectant, antiseptic, anti-inflammatory, antibacterial, and analgesic. It promotes hair growth and is useful in skin care, mouth care, anxiety, mental disorders, depression, reducing pain, headaches, rheumatism, respiratory problems, asthma, indigestion, and gas relief."
Spearmint
Spearmint essential oil is an antiseptic, antispasmodic, insecticide and a stimulant. It is used to prevent infection, clear spasms, provide gas relief and strengthen brain functions and improves menses. It's restorative properties promote healing and improves body functions.
Natural mineral salts, Sodium Bicarbonate, Sodium Sulfate, Citric Acid,* Natural Essential Oil Formula - Rosmarinus officinalis (Rosemary) Oil, Cannabis sativa (Hemp) Seed Oil, Mentha piperita (Mint) Oil, Mentha spicata (Spearmint) Oil, Lavendula Hybrida (Lavandin) Oil, Thymus vulgaris (Thyme) Oil, Thymol, a-Pinene, b-Pinene.
Fill your tub with water at desired temperature and pour in Hemp Bath Fizz to create a spa-like, effervescent experience.
For external use only, not to be swallowed. Keep out of reach of children.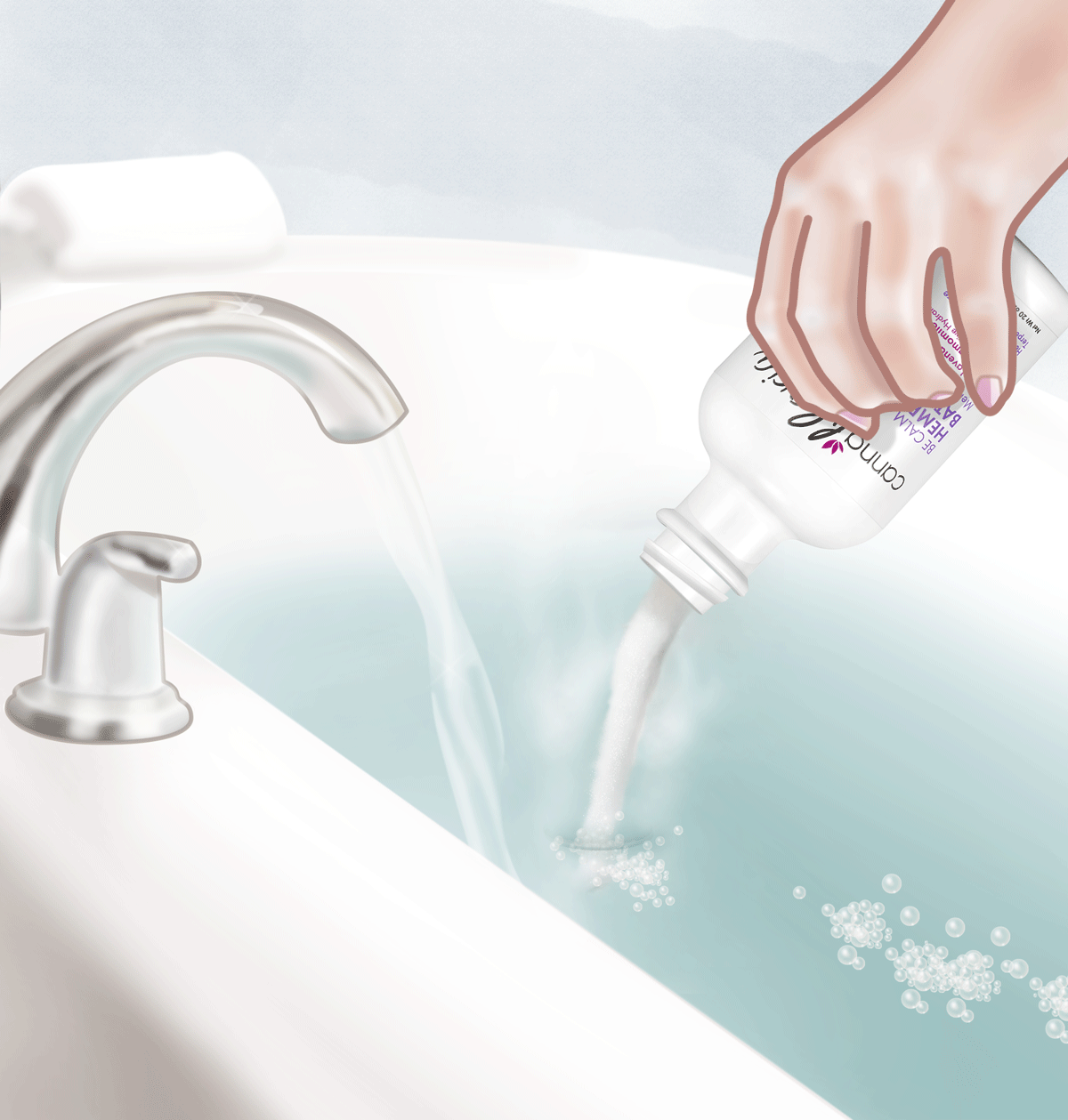 Our products are designed, tested, batched and bottled to the highest standards. Learn more about our 100% committment to sustainability.