Be Energized
Hemp Bath Fizz
HEMP / LIME / BASIL
Item No. 52362
Busy bodies tank when they're drained. Our restorative 
Be Energized
 Hemp Bath Fizz helps put the pep back in your step. Let the fresh, citrusy notes of Basil, Lime, and Bergamot, enhanced with the terpene limonene, awaken your senses, while healing Minerals and moisturizing Organic Hemp Seed Oil soothe and smooth your body back into go-mode. Simply chill in a hot, healing bath to jump-start your day.
Rejuvenates skin with Minerals and Hemp Seed Oil.
Nourishes skin with Omega-3 and Omega-6 essential fatty acids.
Purifies skin with Essential Oils
Energizes the senses with a fresh, citrusy aroma.
Basil
A calming and uplifting herb, Basil has been used to stimulate memory and digestion. It can help restore sense of smell lost due to chronic catarrh and may be beneficial for colds. An antispasmodic fueled by the calming terpene linalool, it aids in the relief of cramps, muscular tension and insomnia.
Hemp Seed Oil
One of nature's most nutritional oils, hemp seed oil offers vital amino acids needed to maintain health and balance. It contains remarkable antioxidant and anti-inflammatory properties. Loaded with omega-3 and omega-6, hemp seed oil moisturizes and nourishes skin, making it a useful ingredient in bath, body and skin care products.
LIME
Expressed from the peel of lime fruit and aided by terpenes limonene and terpinene, lime oil has a fresh and invigorating aroma. Its energizing fragrance promotes joy in the face of anxiety and depression. Lime may help reduce fevers, lymphatic congestion, water retention, asthma and catarrh. It has also been used as a tonic for oily skin.
Limonene
With its distinct citrus aroma, limonene is one of the most popular and energizing terpenes. A featured terpene in lemon, orange, lime and grapefruit, limonene's invigorating properties can awaken mind and body. Limonene is also believed to boost immunity and mood.
Natural mineral salts, Sodium Bicarbonate, Sodium Sulfate, Citric Acid,* Natural Essential Oil Formula - Citrus aurantifolia (Lime) Oil, Ocimum basilicum (Basil) Oil, Lippia citriodora (Lemon Verbena) Flower/Leaf/Stem Oil, Cannabis sativa (Hemp) Seed Oil, Citrus bergamia (Bergamot) Oil, Citrus nobilis (Mandarin Orange) Peel Oil, Pogostemon patchouli (Patchouli) Oil, Linalool, Limonene.
Fill your tub with water at desired temperature and pour in Hemp Bath Fizz to create a spa-like, effervescent experience.
For external use only, not to be swallowed. Keep out of reach of children.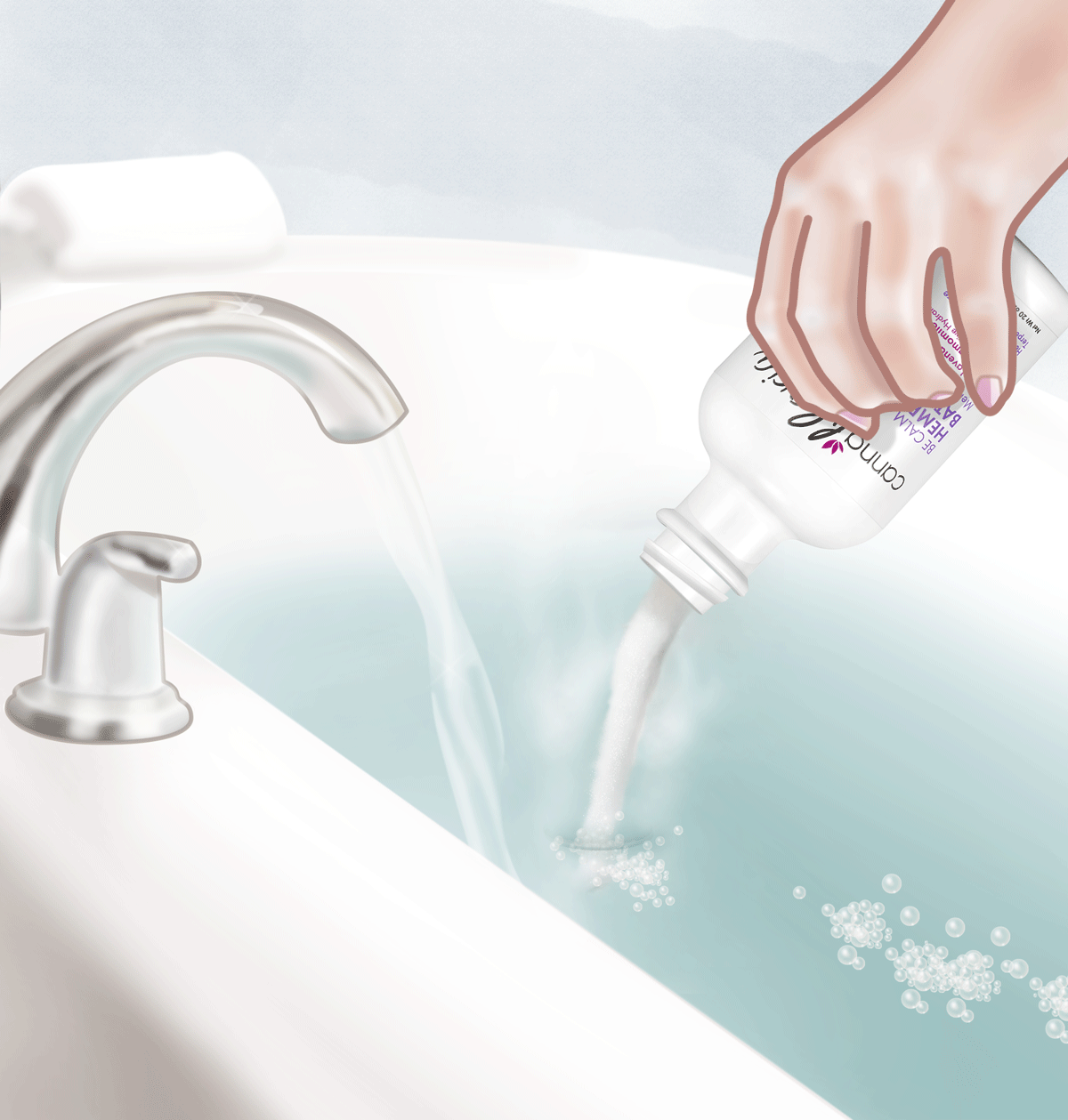 Our products are designed, tested, batched and bottled to the highest standards. Learn more about our 100% committment to sustainability.