Be Calm
Hemp Bath Fizz
HEMP / LAVENDER / CHAMOMILE
Item No. 52363
Daily demands can wreak havoc on our health. Take it easy. Our restorative 
Be Calm 
Hemp Bath Fizz helps you relax and regain your composure. Let the soft, herbal notes of Lavender, Chamomile, and Petitgrain, enhanced with the terpene linalool, revive peace of mind, while healing Minerals and moisturizing Organic Hemp Seed Oil soothe and smooth your body back to life. Simply chill in the hot, healing bath to feel the stress melt away.
Nourishes skin with Omega-3 and Omega-6 essential fatty acids.
Rejuvenates skin with Minerals and Hemp Seed Oil.
Purifies skin with Essential Oils
Soothes the senses with a soft lavender, herbal aroma.
Chamomile
This highly versatile essential oil is an antiseptic, antibiotic, antidepressant, anti-spasmodic, antineuralgic, anti-inflammatory and digestive aid. It helps diminish scars, regulates menstruation, cures pain, reduces fever, and is good for the liver. It also promotes nervous system health, reduces spasms, kills bacteria and fights infections.
Hemp Seed Oil
One of nature's most nutritional oils, hemp seed oil offers vital amino acids needed to maintain health and balance. It contains remarkable antioxidant and anti-inflammatory properties. Loaded with omega-3 and omega-6, hemp seed oil moisturizes and nourishes skin, making it a useful ingredient in bath, body and skin care products.
Lavender
The soothing scent and calming effect of lavender essential oil is prized for its ability to restore balance and induce sleep. It is an analgesic, anti-inflammatory, antiseptic, and antifungal and is effective in treating issues with the nervous system, insomnia, pain relief, skin care, hair care, blood circulation, indigestion, and immune system health.
Linalool
Found in a variety of flowers and spices, linalool has a soft floral aroma that promotes relaxation. A known anti-inflammatory, it can help alleviate pain and insomnia. When applied topically, it may help treat burns and blemishes.
Natural mineral salts, Sodium Bicarbonate, Sodium Sulfate, Citric Acid, * Natural Essential Oil Formula - Lavandula angustifolia (Lavender) Flower Oil, Matricaria recutita (Chamomile) Flower Oil, Cannabis sativa (Hemp) Seed Oil,Citrus aurantium var. amara (Petitgrain) Oil, Citrus bergamia (Bergamot) Oil, Pelargonium graveolens (Geranium) Oil, Boswellia carterii (Frankinscense) Oil, Linalool, a- bisabalol.
Fill your tub with water at desired temperature and pour in Hemp Bath Fizz to create a spa-like, effervescent experience.
For external use only, not to be swallowed. Keep out of reach of children.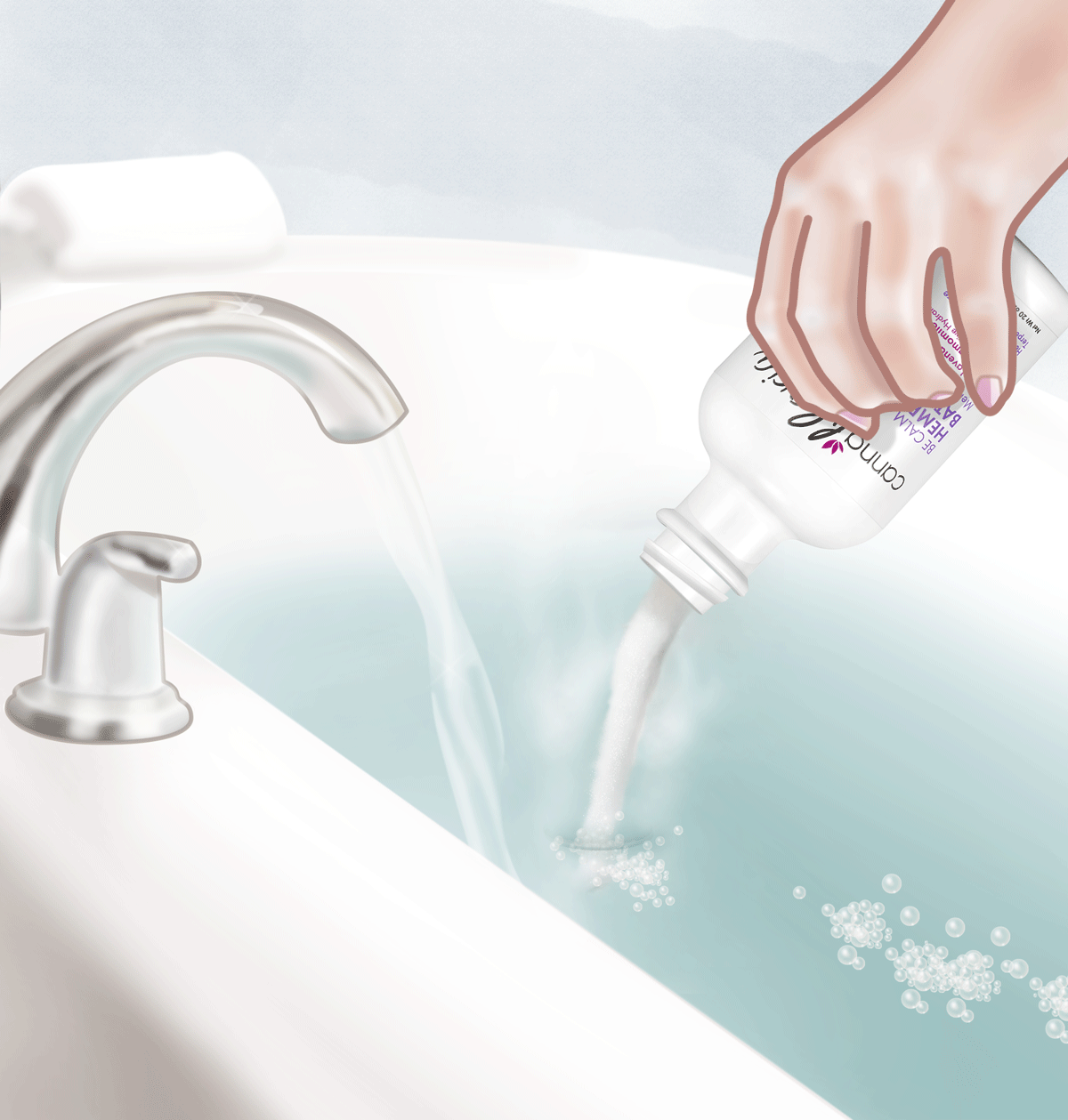 Our products are designed, tested, batched and bottled to the highest standards. Learn more about our 100% committment to sustainability.